Starting in July 2023!
The Village of Lexington has been approved by the State of Michigan to operate a Social District, allowing the outdoor consumption of alcoholic beverages in public spaces within the defined common area (see boundary map).
While we've made it legal to wander around with your compliant beverage of choice, we remind you to be responsible and considerate of others. Lexington is a charming, family-oriented village and we strive to keep it beautiful, clean and fun.  
Thanks for being here and enjoy!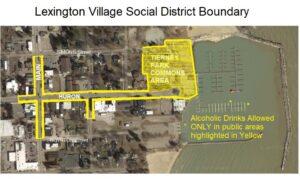 Participating Bars & Restaurants
3 North Vines 
Steis's Village Inn (pending)
Sweetwater Gourmet Deli & Bar
The Village Pub
The Windjammer Bar & Grill
OPEN HOURS
The Lexington Village Social District operates year-round.  The common areas are open from the time participating bars / restaurants open for business until midnight on weekends and 11:00pm on weekdays. Once the common areas are closed, Social District beverages cannot be sold in participating businesses nor possessed and consumed in the common areas and consumption of alcoholic beverages must be contained within the license holders service areas.
RULES
No BYOB within Common Area.
Beverages are allowed in clearly marked Social District cups ONLY.
Stay on the main street sidewalks and within the allowed part of Tierney Park.
No Social District cups on the docks, breakwaters, or beach.
A Social District drink purchased in a bar / restaurant is clearly marked with that businesses name. It cannot be brought into any other bar / restaurant! It can only be consumed in the outdoor common area or the business premises where purchased.
PLEASE KEEP LEXINGTON CLEAN. Discard cups properly.
Be safe. State laws still apply to serving minors, public intoxication, and impaired driving.