If you haven't heard we are so very excited to announce the Waterline Project for our beautiful cemetery! By this publication, we are well on our way in raising the need funds. But we are not there yet. We need your help too. The fundraiser is designed so that everyone can participate. We will measure our progress and donations by the foot. Visit our Facebook page for updated donation information.
https://www.facebook.com/Lexington-Municipal-Cemetery-Michigan-464089600674046/?ref=bookmarks
Our estimated cost for this project (calculating increased material cost) is roughly $10,000.00. With that being said, we are asking for $10.00 a foot with the total estimated feet for phase one being 1000 feet of piping with 5 spigots, (see attached drawing). Mr. William G Oldford kickstarted our fundraiser with a $2,000.00 donation. To date we are over $3,000.00.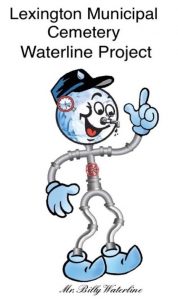 If you would like to participate with your donation you can write a check made out to the Village of Lexington. Noting Waterline Project or you can visit our webpage at
https://lexingtoncemetery.wixsite.com/mich and click on the donation tab.
Thank you in advance for your participation in moving this waterline project forward